Workshop in Jelgava Local Municipality, Latvia – April 2017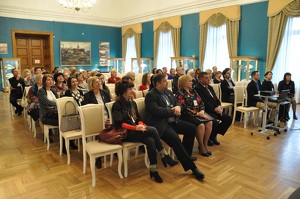 A delegation from Germany, Poland and Sweden visited Jelgava Local Municipality from 24th to 28th April 2017, to resolve issues together related to the topic of "Social Inclusion Policy" with the local council of the Jelgava Local Municipality.
In the days devoted to the topic of "Social Inclusion" there were discussions, exchanges of experience and a conference at which representatives from the Ministry of Welfare provided information about social inclusion and family support policy in Latvia. The Director of the Latvian Samaritan Association, Andris Bērziņš, introduced participants to innovations in the social sector and revealed a vehicle equipped for home support. In turn, the Director of the SOS Children's Villages Latvia Greater Rīga Regional Programme, Ilze Žagare, shared examples of good practice. A representative from the Latvian Institute, Ieva Stare, provided an insight into the development of Latvia's image and about events dedicated to Latvia's centenary.
Ilze Vītola, the Vice Chairman, shared the experience of Jelgava Local Municipality about issues in the social sector and talked about the four chosen target groups – refugees, senior citizens, people with special needs and families with children. Ilze Vītola stated: "Recognizing that we are a part of the European Union, we need to know how to take the experience and be conscious that by living in the European Union we are on the one hand each different, but on the other hand we all have similar problems. Together, by merging our cultural differences, we can learn and adapt to each other so that people feel a sense of belonging at any place and time."
An insight into integration for different aged and social groups was obtained at Viesu Līči Farm, whereas access to the environment for people with special needs was demonstrated at Jelgava St. Trinity Church tower, at the promenade on Pasta Island and at Tērvete Nature Park. There were also working group sessions at Tērvete to develop a new project, where each country defined their project goals, activities and planned results.
In Caunītes Farm in Ozolnieki Municipality project partners gained information about Latvian way of life, along with the Ministry of Environmental Protection and Regional Development's narrative about multi-level governance and differences between municipalities and regions in Latvia, which followed.
At the final evening, project partners were guests at Lielvircava Manor, where the Svirlauka Adult Dance Group from Jaunsvirlauka Parish performed for them.