Workshop in the District of Wodzisław, Poland – May 2016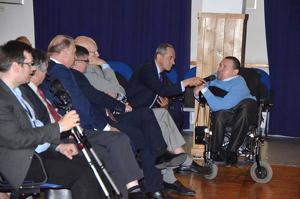 "Integration of people with disabilities into their social environment. Possibilities of social and intercultural performing on a local and European scale" was the title of the second international workshop in the District Wodzisław.
In the seminar took part parliamentarians, representatives of local and regional authorities, as well as representatives of institutions providing assistance to persons with disabilities, associations and non-governmental organizations apart from the foreign delegations. Among the 39 members of foreign delegations, who participated in the seminar were representatives of people with disabilities
The main objective of the meeting was to exchange experiences and best practices in the field of work`s methods with disabled people in Poland. The seminar was opened by the Head of Distric- Ireneusz Serwotka. MEP Marek Plura emphasized that over the past 20 years many things have changed in the approach to persons with disabilities - e.g. More and more employers want to hire people with disabilities. The process approach to integration in education presented Anna Bialek - director of the Secondary School in Wodzislaw Slaski, which was the first of the district educational institutions who introduced the inclusive teaching. Her Students presented an extraordinary spectacle in convention of black theater, with a combination of visual effects: white fabric, black background and ultraviolet lamps.
The huge number of participants, great fun and great atmosphere – just like that, can be summed up the concert "Blues for disabled", which took place at the Recreation Center in Olza. In the eleventh edition the event for people with disabilities was attended by over 900 people und also by the guest from Germany, Sweden and Latvia.
Part of the workshop was also a study visit in the Foundation for the Development and Social Entrepreneurship "Be Together" from Cieszyn. It implements many projects for activating the unemployed and at risk of social exclusion and creates new workplaces in the social enterprise. Moreover the organization supports the returning to society of people threatened with marginalization by: education, work, initiating occupational activity, assistance, mutual aid.
The final event of the workshop was a common learning of basic phrases in the native languages of the partners and singing songs based on a song book & dictionary, which was published within the project.
The last evening was a real "tower of babel" and the most-singing place in the Silesia region. The program participants liked it very much, so that they decided to continue it on the workshop in Germany!