Workshop in the County of Sörmland, Sweden – September 2016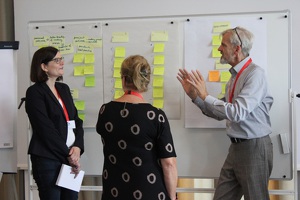 In September 2016 Sörmland was host of the international workshop. Half way through the project we worked together with our external process support looking back on what we had learned and looking ahead to our anticipated outcome after the completion of the project.
We were informed about the work of the ´Council of Senior citizens` in the city of Eskilstuna, which is an organisation of politicians and representatives from senior citizens associations. Their main goal is to give advice and information as well as to ensure that important concerns of seniors are taken into account and that their expertise and experience are considered.
Invited guests from the city of Eskilstuna also informed about the political activity of their ´Council for Minorities and Integration`.
During the three workshop days we also made a study visit at a family centre which is part of one of our health care centres. It is a collaboration between Eskilstuna city and the County Council of Sörmland, where all families with children are offered different services in one place and where you can meet staff members from the Centre for Childbirth, child care centre, kindergarten and social workers.
On the last day the Polish delegation composed the ´Diversity Unites-song`, which became the "closing act" of the workshop!