Workshop in the District of Recklinghausen, Germany – September 2015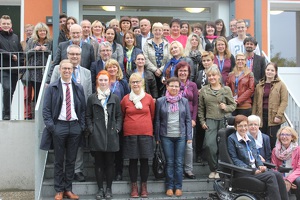 The main focus of the first international workshop with the theme 'Multiculturalism` was laid on the topic of neighbourhood development. Communities rely on strong, diverse living quarters in order to prevent social exclusion and poverty. After a short introduction to the topic, the four participating groups from Sörmland (SE), Jelgava (LV), Wodzisław (PL) and Recklinghausen (DE) were given the task of developing their own model neighbourhood. ´What is needed for a successful neighbourhood development?`; ´How can the citizens of a quarter become more active?` and ´How can we recognise obstacles for people in the neighbourhood and provide support for them?` - these were some of the key questions posed for the groups, which included participants from the sectors of politics, government, social work, urban development as well as citizens and welfare organisations. A Swedish "Democracy office", a Polish "District TV", Latvian day-care centres offering services for four target groups as well as a renovated German church serving as a meeting point are just a few examples of their creative problem solving.
Even the Best Practice visits to an intercultural centre, a mosque association and a quarter centre, amongst others, have led the cooperation of the mixed groups of people to participate in an active exchange of ideas and brought us a vast variety of prospects.